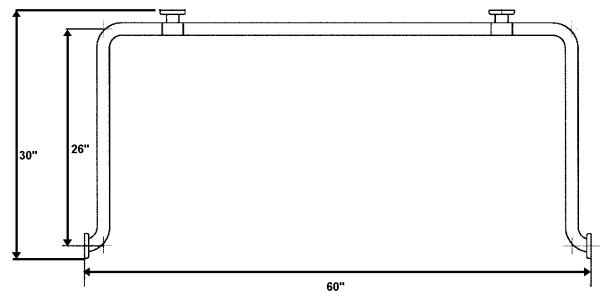 Specifications:
Tube: 1-1/2" diameter 18 gauge Type 304 Stainless steel
Finish: Satin stainless steel with a non slip surface equivalent to 600 grit
This heavy duty one piece stainless steel bath tub surround handrail & grab bar fits a standard bathtub surround. When properly installed, it can support loads in excess of 900 lbs., exceeding structural strength requirements of the ADA. Note: This bar uses supports at the back wall. This standard size permits installation to an opening of 59" to 61" wide. The back wall supports are slip type which allows them to be slid and positioned center of tile or anchored to existing studs. We can build this bar to your individual requirements and specifications, contact us with your wall dimensions.
Purchase this bathtub handrail grab bar from our web site: http://www.adaptiveaccess.com/grab_bars_shower_tub.php