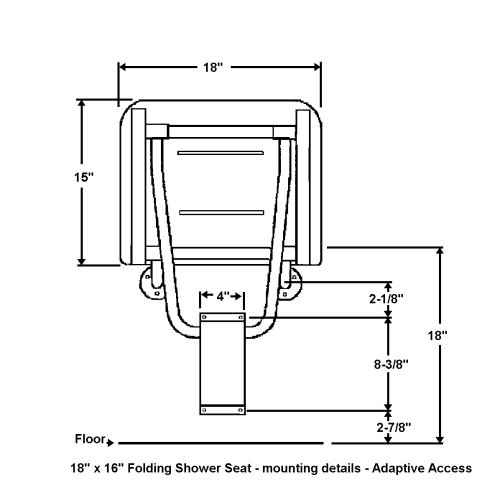 Folding shower seat specifications:
Our wall mounted compact folding shower seats. Seat frames are 1" x .065 wall stainless steel tube. Overall dimensions are 18" x 16.5" when installed including 1-1/2" space between the seat and wall mounting. The seat tops are available in four attractive finishes. Phenolic slats are 3" wide x 1/2" thick. One piece plastic tops are 1/2" thick. Stainless steel tops are 14 gauge. Weight capacity is 300 lbs. when properly installed.
Folding shower seat models:
Model #215 - one piece white plastic top.
Model #235 - ivory phenolic slated top.
Model #236 - wood grain phenolic slated top.

Folding shower seat mounting instructions:
Adequate wall support is absolutely necessary! Installation of the wall mounted folding shower seat requires wood blocking in a typical stud wall. We suggest installing continuous 2 x 12 wood blocking between the studs, starting from the floor plate up to at least 24 inches above the shower floor.
With the top of the seat 18" above the floor, make sure that the top of the seat is level and mount the wall flanges. Keep the seat level, mount the wall plate and bracket with the diagonal leg supporting the seat in the folded down position..
Purchase shower seats from our web site: http://www.adaptiveaccess.com/shower_seat.php