Aluminum Wheelchair Ramps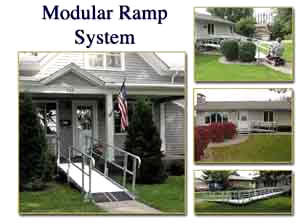 Modular Wheelchair Ramps:
This modular aluminum ramp system is strong, durable, portable, flexible, and affordable to make it the best alternative to provide quality, functional wheelchair access to many areas. This ADA handicap ramp system will meet all building codes including the Texas Accessibility Standards and can be used for residential and commercial applications.
View pictures: (opens a new window) Ramp image1, image2, image3,
The ramp system consists of standard components that can be assembled quick and easy. The modular components make it easy to move the ramp to a new location or change the configuration. Straight ramps, 90 degree turns, and 180 degree switch-backs are available and designed to meet ADA recommendations. Standard handrails consist of two 1-1/2" diameter horizontal rails.
Features:
Width = 36"
Length as required - 4' minimum
Load capacity = 100+ pounds per square foot
Slope is adjustable - as required
Slip resistant grooved aluminum floor
2" curb for roll off protection
Double 1-1/2" handrails, 36" - 38" high
Ramp Selection Slope Guidelines:
1:12 Ratio is recommended and required to meet ADA specifications. For every inch of rise (height) you need a foot of ramp run (length).
2:12 Ratio for residential use by occupied chairs with assistance. For every 2 inch of rise (height) you need a foot of ramp run (length).
3:12 Ratio for unoccupied chairs. For every 3 inch of rise (height) you need a foot of ramp run (length).
Modular ramps are available in a wide variety of sizes and configurations, note that the prices below include handrails. When ordering multiple items please contact us for shipping discount.
Order Online - Modular Ramp Systems
Length in feet:
Retail Price:
Discount Price:
4
$697.90
$499.30
5
$889.90
$605.00
6
$1,103.90
$679.80
7
$1,151.90
$753.50
8
$1,203.90
$796.40
9
$1,585.90
$975.70
10
$1,705.90
$1,049.40
11
$1,755.90
$1,123.10
12
$1,803.90
$1,103.30
13
$2,185.90
$1,345.30
14
$2,305.90
$1,419.00
15
$2,355.90
$1,497.10
16
$2,405.90
$1,480.60
17
$2,787.90
$1,714.90
18
$2,907.90
$1,789.70
19
$2,957.90
$1,863.40
20
$3,007.90
$1,850.20
4 x 4 turn or straight through Platform
$1,009.90
$621.50
5 x 5 turn or straight through Platform
$1,461.90
$899.80
5 x 8 180 degree turn or switchback Platform
$1,881.90
$1,158.30
45 degree angle turn Platform
$695.90
$427.90
ADA Handrail Extensions - Pair
$85.90
$59.00
Our Sales Policy and Procedures
Help! How can I order? What is our payment options? Do I pay sales tax? What is our guarantee? How are our products shipped and when can I expect delivery? What is our return policy? How can I get help? We have the answers to your questions. Click the link below, (opens a new window).
Our Products - Order - Payment options - Sales tax - Guarantee - Delivery - Returns - Help!
Help
We're always ready to help you with any questions, contact us. We will find the solution to meet your specific needs. We provide every client top quality, low prices and fast, friendly, personable service, guaranteed!