Grab Bars and Handrails
Modifications to our surroundings will become necessary as we grow older and face the added challenges associated with living at home. Falls are the most common accident around the home and can be prevented by the use of handrails and safety bars to provide stability and the extra support required by the elderly and people with limited mobility. Handrails can be used throughout your home to provide safety and help prevent falls along hallways, steps and ramps and will help you keep your balance and provide a safe, accessible surrounding and reduce your risk of falling. It's the most cost effective home and bathroom modification made!
Our Grab Bars are made in the USA and available in a wide variety of styles and configurations at Discount Prices, see our Online Sales Catalogs:
Catalog - Grab Bar and Handrail

Installed in your bath tub and shower areas provide support to help you maintain balance. We have a large selection to choose from.
| | |
| --- | --- |
| | Installed at the toilet provide safety, assistance and support. We have a large selection to choose from. |
| | |
| --- | --- |
| | In various sizes, length, finishes and configurations. |
Grab bars must be mounted securely, preferably screwed directly to wall studs or wood blocking. In anticipation, walls should have been reinforced with wood blocking at the time of construction, in the bathtub, shower and toilet areas. Unfortunately, this is usually not the case because most home builders haven't considered the needs of those who are disabled or elderly. We find that stud spacing can be at random especially in the bathroom, around the shower and toilet area. Depending on individual requirements, grab bars can be mounted vertically or at an angle to match existing wall studs. Horizontal installation can be difficult in existing conditions because stud spacing and bar size do not match.
Handicap handrail compliance to the ADA:
Hand railing must be securely anchored, have a smooth surface and easy to grasp, 1-1/4 to 1-1/2 inches in diameter
Mounted between 34 and 38 inches high.
Handrails projecting from a wall must have a space of 1-1/2 inches between the wall and the handrail.
The railing ends rounded off, returned to the wall or terminate at the posts.
We build handrails and safety bars in compliance to the ADA: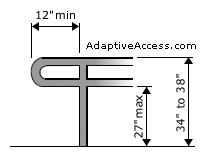 We build and install ADA approved steel handrails for wheelchair ramps and steps for the Houston, Texas and surrounding area. Our handrail design and installation are based upon location and the requirements of each individual and custom made for each application. Our licensed and certified welder has over 20 years of welding experience. We can modify or replace your existing railings to comply with current handicap codes of the ADA and Texas Accessibility Standards. We use schedule 40 steel pipe or stainless steel to build handrails.
Enclosed suicide proof grab bars for patient safety:
We offer ADA compliant, fully enclosed suicide proof grab bars and handrails for patient safety and suicide prevention. The enclosed

bottom prevents hospital patients from tying anything to them. Hospitals, correctional facilities and psychiatric units throughout the U.S. use our suicide proof security bars and handrails to enhance the safety of their facility and protection of people with mental illness. See details. Please contact us for more information.

Contact us, we have years of experience, always ready to help you with any questions or requirements and provide every client top quality, low prices, fast, friendly, personable service. We have the accessible solutions for you and can make your life easier!