Folding Shower Seats
ADA L-shaped shower seats:
Our products are used throughout the U.S. in homes, business, hotels, hospitals and government facilities. Selected for their quality and durability, these attractive ADA compliant heavy duty wall mounted folding shower seats are available in three attractive seat finishes. Mounted on a heavy duty rust proof type 304 stainless steel frame, these folding shower seats have a weight capacity of 300 pounds.
These wall hung seats are intended for walk in and roll in showers. For shower / bathtub combinations check out Folding Bathtub Seats.
Our ADA approved folding shower seats utilize a self locking mechanism to secure them against the shower wall when not in use. For safety and durability, we avoid the use of springs that will corrode and eventually wear out. A constant friction, wall mounted bracket guides the U shaped yoke freely up and down, resulting in a low pressure constant spring action to raise and lower the seat. Our seats are made in America, maintenance free, light in weight yet heavy on performance!
Pictured is our reversible design.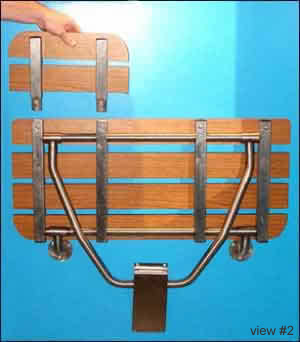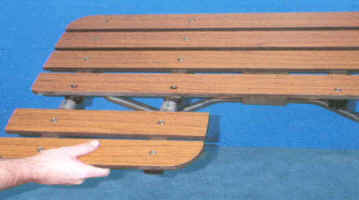 L-shaped ADA shower seats are reversible, for right or left handing. Reversible shower seats may be specified with ivory or wood grain phenolic slats or with a solid white high density polyethylene top. Phenolic slats provide superior slip resistance, drainage and a more natural appearance, especially when specified in the wood grain finish. Reversible seats may be changed into rectangular models by removing the handed portion and replacing it with the included decorative plastic plugs.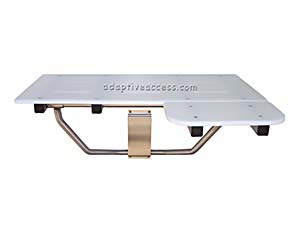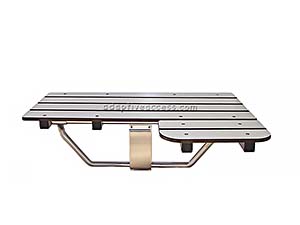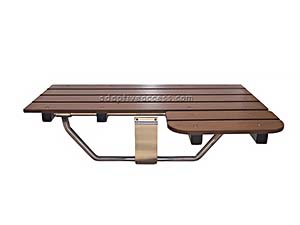 Our folding shower seats meet all ADA handicap requirements when mounted 17" - 19" from the top of the shower seat to the floor. Overall dimensions are 32" x 23". Phenolic slats are 3" wide x 1/2" thick. See details.
Order Online - ADA Folding Shower Seats
Model:
Retail Price:
Discount Price:
# 212- solid white poly top (reversible)
$375.90
$234.50
# 229- ivory phenolic slats top (reversible)
$477.00
$289.60 --- OUT OF STOCK
# 234- wood grain phenolic slats top (reversible)
$477.00
$289.60 --- OUT OF STOCK
# 202- stainless steel one piece top (left hand)
$637.50
$455.00
# 203- stainless steel one piece top (right hand)
$637.50
$455.00
How do I install a wall mounted folding shower seat?
Mounting the seat is not difficult but will require an experienced carpenter or handyman. Experience in light framing, drilling through and installing ceramic tile may be required.
Tools required can include:
Electric drill, masonry bit, punch...
Typical conditions:
We find the typical shower wall surround to be a 2x4 wood stud frame, covered with gypsum drywall, tile board or plaster lath. The wall finish is typically ceramic tile. These materials alone are not adequate to support the seat unless you can mount into existing wood blocking or studs. You can use a 1/8th-inch masonry bit, drill through the tile grout to determine if wall support is in place.
Wall support:
Adequate wall support is absolutely necessary! Installation of the wall mounted folding shower seat requires wood blocking in a typical stud wall. This is not a problem in new construction. We suggest installing continuous 2 x 12 wood blocking between the studs, starting from the floor plate up to at least 24 inches above the shower floor. Remodeling an existing shower can be more involved. If the shower backs up to an interior wall, consider removing the wallboard and installing the blocking from the backside. If not, it may be required to remove and replace a portion of the existing shower wall tile.
Anchoring hardware:
Once the wood blocking is in place and the wall finish has been installed, mounting the folding shower seat is easy. Position the seat at the required height, normally 17-19 inches above the floor. Use a magic marker to mark the flange and wall bracket screw locations. Use a punch and hammer to carefully nick the tile to prevent the drill bit from wondering. Use a masonry bit and drill through the tile. All anchoring hardware must be carefully selected to insure proper installation. Mount your new shower seat. Detailed instructions are included with your purchase.
Good luck with your project. We hope you enjoy the convenience of your new folding shower seat. If you have questions or need further assistance, please feel free to contact us.

Phenolic seat tops:
The seats are available with phenolic tops and covered with a smooth, easy to clean, plastic laminate in ivory color or a wood grain finish. Phenolic slats provide superior slip resistance and drainage.
What is phenolic?
Phenolic is a hard, dense, moisture resistant material, made by applying heat and pressure to layers of cellulose material impregnated with synthetic resin. When heat and pressure are applied to the layers, a chemical reaction (polymerization) transforms the layers into a high-pressure thermosetting industrial laminated plastic.
Purchase our products -
Contractor Prices - Online Special: Purchase our seats online at contractor prices, marked way below retail! You will not find a better seat at this price!
Our Sales Policy and Procedures
Help! How can I order? What is our payment options? Do I pay sales tax? What is our guarantee? How are our products shipped and when can I expect delivery? What is our return policy? How can I get help? We have the answers to your questions. Click the link below, (opens a new window).
Our Products - Order - Payment options - Sales tax - Guarantee - Delivery - Returns - Help!
Help
We're always ready to help you with any questions, contact us. We will find the solution to meet your specific needs. We provide every client top quality, low prices and fast, friendly, personable service, guaranteed!