Threshold Wheelchair Ramps
Wheelchair ramps:
Threshold Wheelchair Ramps: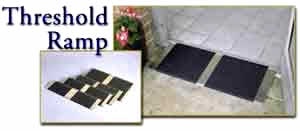 See installation details and zoom in for a closer look.
This small threshold ramp is designed for doorways. These ramps are available in 8", 10", 12", 16", and 24" lengths by 32" wide. It has holes punched in each of the top corners for easy installation. Made of aluminum, surfaced with anti-slip, high traction safety tape, it is lightweight yet durable. Load capacity of this ramp is 300 lbs. per axle.
FEATURES:
Weather resistant, all aluminum construction.
Slip resistant high traction tape on the surface.
Available in various lengths.
Load capacity = 300 pounds one axle - 600 pounds two axle.
THRESHOLD RAMP SLOPE: The ADA requires a slope no greater than a 1:12 ratio (for every inch of height, 12 inches of ramp length). We agree, but if space is limited, for your personal residential use, we recommend not to exceed 2:12 (for every inch of height, 6 inches of ramp length) for an occupied wheelchair.
Order Online - Aluminum Threshold Ramps
Model: (Threshold Height Inches)
Retail Price:
Discount Price:
THR832 - 8" x 32" (1/4 - 1/2)
$52.00
$41.60
TH1032 - 10" x 32" (1/2 - 3/4)
$52.00
$41.60
TH1232 - 12" x 32" (3/4 - 1)
$66.00
$52.80
TH1632 - 16" x 32" (1-1/2 - 2)
$92.00
$73.60
TH2432 - 24" x 32" (1-1/2 - 3)
$150.00
$120.00
Our Sales Policy and Procedures
Help! How can I order? What is our payment options? Do I pay sales tax? What is our guarantee? How are our products shipped and when can I expect delivery? What is our return policy? How can I get help? We have the answers to your questions. Click the link below, (opens a new window).
Our Products - Order - Payment options - Sales tax - Guarantee - Delivery - Returns - Help!
Help
We're always ready to help you with any questions, contact us. We will find the solution to meet your specific needs. We provide every client top quality, low prices and fast, friendly, personable service, guaranteed!