Folding Tub Seat / Transfer Bench
ADA compliant wall mounted bathtub seats:
It can be dangerous for some of us to step in and out of a bathtub because of those high tub walls! Transferring from a wheelchair to the tub can be difficult. You can make it easier by installing our folding transfer bathtub seat. Tub transfer seats allow persons to sit in the bathtub and take a bath or shower without having to lower themselves to the tub floor.
Our seats are designed to make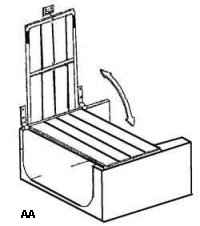 your bathing experience as practical and comfortable as possible. Secured to the wall, this folding wall mounted bath seat makes transferring to and from a wheelchair and bathing safe and easy. Unlike the standard tub bench, they offer stability and conveniently fold up against the wall and lock in the upright position when not in use. Our ADA compliant folding tub seats are made to last a lifetime. For safety and durability, we avoid the use of springs that will corrode and eventually wear out. Our seats are maintenance free, light in weight yet heavy on performance! The tilt up fold down seat mounts to the wall and at 32-1/2" long, rests on the edge of your bathtub. The heavy duty durable rust proof, type 304 stainless steel frame supports up to 400 pounds. You will not find a better seat at this price!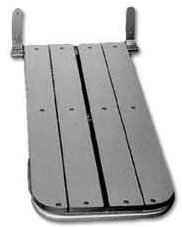 Our ADA compliant folding bathtub seat is a luxurious addition to your bathroom and can be used for both home and commercial applications to provide safety and convenience. These attractive seats provide comfort and stability and may be specified with ivory or wood grain phenolic slats or with a solid white high density polyethylene top. Overall dimensions are 16" x 32-1/2". Phenolic slats are 3" wide x 1/2" thick. Phenolic slats provide superior slip resistance and drainage.
Pictured is our phenolic slats top. See the details & available finishes.
Order Online - Folding Bathtub Seats ( 32-1/2" x 16" )
Model:
Retail Price:
Discount Price:
# 17-one piece white poly top
$303.35
$197.43 OUT OF STOCK
# 38-wood grain-phenolic slats top
$337.37
$223.40 OUT OF STOCK
# 37-ivory-phenolic slats top
$337.37
$223.40 OUT OF STOCK
Phenolic seat tops:
The seats are available with phenolic tops and covered with a smooth, easy to clean, plastic laminate in ivory color or a wood grain finish. Phenolic slats provide superior slip resistance and drainage.
What is phenolic?
Phenolic is a hard, dense moisture resistant material made by applying heat and pressure to layers of cellulose material impregnated with synthetic resin. When heat and pressure are applied to the layers, a chemical reaction (polymerization) transforms the layers into a high-pressure thermosetting industrial laminated plastic.
ADA compliance:
The tub area must be carefully designed to provide maximum safety. Our folding bathtub transfer bench seats meet all ADA handicap requirements. When properly installed, our wall mounted tub seats are designed to exceed all federal load specifications and comply with all A.D.A. requirements.
For bathtubs, the ADA specifies that tub seats shall be mounted securely and shall not slip during use (4.20.3).
4.20.3 Seat. An in-tub seat or a seat at the head end of the tub shall be provided. Seats shall be mounted securely and shall not slip during use.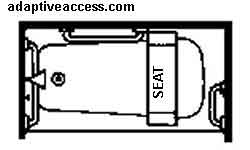 Our Sales Policy and Procedures
Help! How can I order? What is our payment options? Do I pay sales tax? What is our guarantee? How are our products shipped and when can I expect delivery? What is our return policy? How can I get help? We have the answers to your questions. Click the link below, (opens a new window).
Our Products - Order - Payment options - Sales tax - Guarantee - Delivery - Returns - Help!
Help
We're always ready to help you with any questions, contact us. We will find the solution to meet your specific needs. We provide every client top quality, low prices and fast, friendly, personable service, guaranteed!